Discovering the Colo Wilderness on foot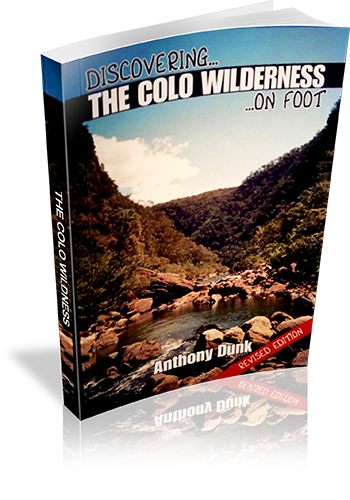 Title
: Discovering the Colo Wilderness on foot
Author
: Anthony Dunk
Edition
: 2
Publisher
: Envirobook
ISBN
: 9780858812277
Number of pages
: 79
Year of Publication
: 2009
Cover Price (au$)
: 13.95
Format
: Paperback
Website
: 
http://adunk.ozehosting.com/booktoc.html
Weight (grams)
: 85
Regions the book covers
: Colo River
Height (cm)
: 18
Subjects
: 
Hiking -- New South Wales -- Colo Wilderness -- Guidebooks,Colo Wilderness (N.S.W.) -- Guidebooks
Authors Comments
: 
This book describes 20 bushwalks in Wollemi National Park, which is located north-west of 
Sydney. A central feature of the park is the Colo River which flows through more than 40 kms 
of rugged wilderness surrounded by huge sandstone cliffs. A number of the walks in the 
book describe the easier passes into the gorge, while others cover walks in the surrounding 
areas such as Putty, Mt Wilson, Newnes, and Rylstone.
Some history and background of the area is provided as well as suggestions for extended 
walks, and details of equipment and techniques for bushwalking in the area.
Niche: Walking in Colo region
Interpretive Information: Plenty
Grade system explained: No
Ascent and/or Decent provided: No
Driving directions provided: Yes
Date walks last reviewed provided: No
A summary of walks provided: No
Regional Map of walks provided: Yes
Maps designed for walking: Yes - limited detail
Type of maps used (for walking): Sketch
Colour used in walking maps: Black and White
Size of walking maps: Full page
Walking map Comment: Some maps are shared by a number of walks.
Colour depth of photos: Black and White
Comment on Photographs: There is an average of one photograph every four pages.
Level of detail in tracknotes: Detailed route information
Alternate route and side trip suggestions: Some walks
---
List of walks in book
| Walk Name | Length | Time | Grade | Page |
| --- | --- | --- | --- | --- |
| Bob Turner's track | 7 km | 3 hrs | Easy | 23 |
| Mountain Lagoon (T3) Track | 5 km | 5 hrs | Easy | 24 |
| Colo-Meroo Trail | 23 km | 2 Days | Easy | 27 |
| Canoe Creek | 5.5 km | 1 Day | Medium | 29 |
| Crawford's Lookout | 8 km | 4 hrs | Easy | 32 |
| Crawford's Lookout to Boorai Creek | 20.5 km | 2 Days | Hard | 34 |
| Drip Rock | 32.5 km | 3 Days | Very Hard | 37 |
| Mellong Creek | 8 km | 3 hrs | Easy | 39 |
| Stony Waterhole to Wollemi Creek | 24.5 km | 2 Days | Medium | 41 |
| Wheeny Gap | 9.5 km | 5 hrs | Medium | 44 |
| Wollangambe River | 5 km | 1 Day | Easy | 47 |
| Deep Pass | 2.5 km | 2 Days | Easy | 50 |
| Glow Worm Tunnel from Zig Zag Railway | 9 km | 1 Day | Easy | 52 |
| Glow Worm Tunnel from Newnes Road | 9 km | 1 Day | Easy | 54 |
| Pipeline Track Lookout and Newnes Ruins | 8 km | 1 Day | Easy/Medium | 55 |
| Newnes to Glen Davies (Pipeline Track) | 20 km | 2 Days | Easy/Medium | 58 |
| Blackfellows Hand Cave | 3 km | 1 Hr | Easy | 59 |
| Kandos Weir | 4 km | 2 hrs | Easy/Medium | 60 |
| Mount Coricudgy | 18 km | 1 Day | Medium | 62 |
| Ferntree Gully | | 1 Hr | Easy | 63 |
| Mount Coricudgy to Putty | 65 km | | | 65 |
| Newnes to Colo Gorge | 45 km | | | 67 |
| Colo Gorge by Li-Lo | 55 km | | | 69 |